Published: Friday, August 04, 2023 07:30 PM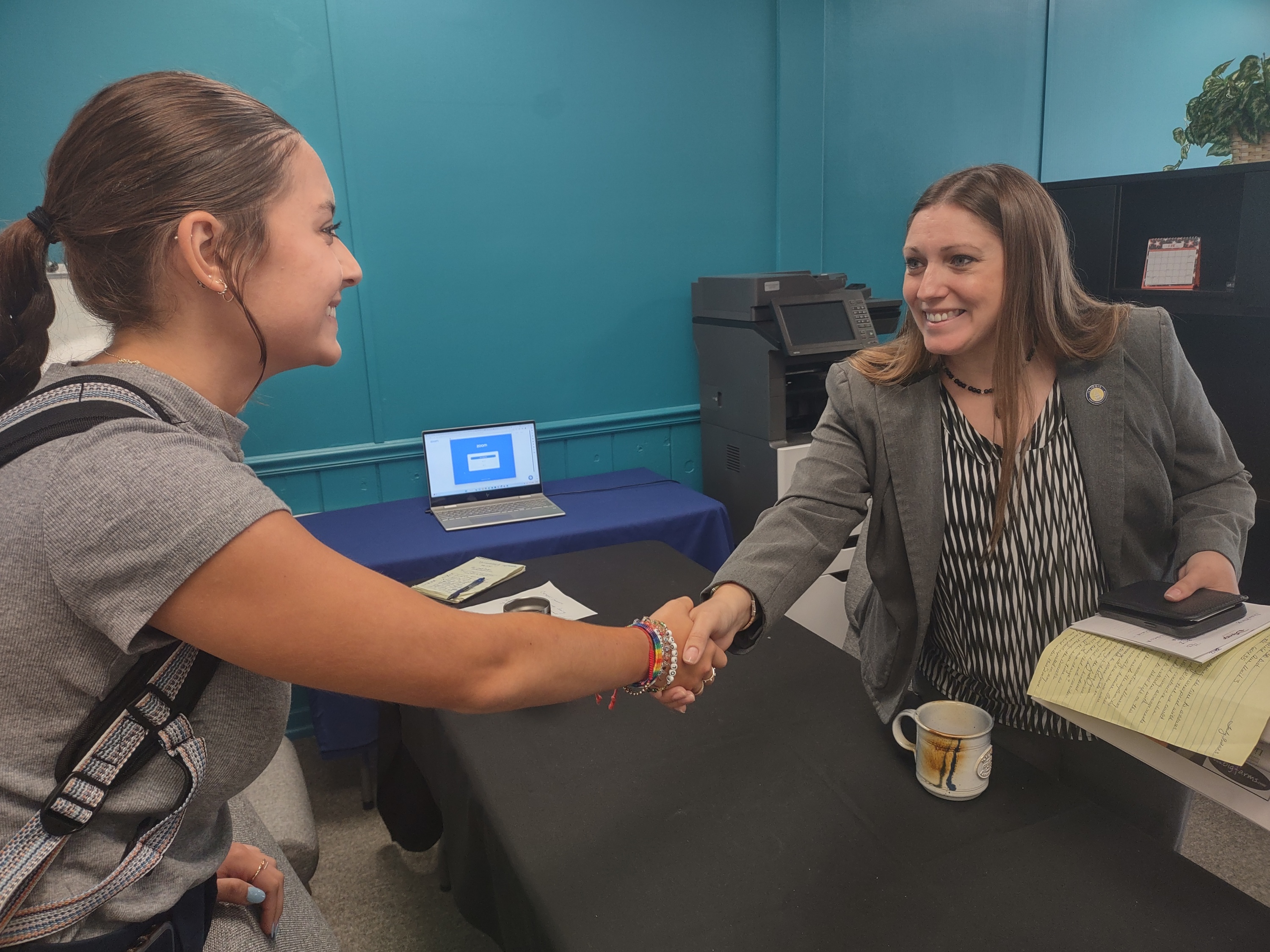 JOLIET – State Senator Rachel Ventura took part in the Illinois Girls Lead Program by welcoming Lockport Township student Sofia Reyes to shadow her earlier this month. The program was launched by Lieutenant Governor Juliana Stratton for girls in 5th-12th grades interested in policy and government affairs.
"Programs like the Illinois Girls Lead Program are crucial to our state to keep future generations engaged and involved in their communities," said Ventura (D-Joliet). "Having a shadow like Sofia gave me the opportunity to showcase all the hard work that legislators do to ensure that residents' concerns are heard."
The Illinois Girls Lead Program is centered on imparting social and leadership skills, as well as aiming to open opportunities for career exploration and discussions around education pathways.
"As leaders, we can build the pathways to uplift young girls in achieving their dreams and reaching their goals. The Girls Lead Program is an opportunity for girls in middle school and high school from across our state to learn first-hand what it is like to work in government and policy, and how civic engagement can make a positive impact on so many lives," said Lt. Gov. Juliana Stratton. "This educational experience through the Girls Lead Program not only teaches young girls the hard work and dedication needed for this work, but also provides the support and inspiration that will create the women leaders of tomorrow."
Sofia Reyes, a participant in the 9th-12th grade division, was matched with Ventura. Reyes is an incoming senior at Lockport Township High School, where she is involved in many activities such as the varsity swim and water polo team, National Honor Society Treasurer, Student Equity Action Committee, Student Leadership Group and many more.
Additionally, she recently attended the American Legion Auxiliary Illini Girls State at Eastern Illinois University, where she was elected president of the Senate amongst her fellow students. In her free time she loves to read, listen to music and spend time with friends and family.
Her shadowing responsibilities will include at least three visits to Ventura's office, followed by a policy paper on the issue being researched. Reyes intends to do her policy white paper on SB2348, a bill that Senator Ventura has introduced that would create 30 minutes of relaxation and downtime during the school day. Reyes supports the legislation due to her own experience at Lockport High School, which has a similar program in place. As a high-performing student who is involved in extracurricular activities, Sofia appreciates the opportunity to decompress and re-focus her day.
"My favorite part of this program was being able to sit in on the weekly staff meeting and being able to hear firsthand the discussions to help resolve community concerns," said Reyes.
"It's very comforting to know how hard our Senator is working and to see her perseverance and commitment to meet with her local businesses and constituents is very much appreciated."
Ventura wanted to participate in the Illinois Girls Lead Program as part of her ongoing effort to foster ethical leadership in government.
"My own children have had a very unique experience that has exposed them to meeting other elected officials, issue advocacy, and participating in numerous public events," said Ventura. "It has been an invaluable educational experience for them, and I want to see more young people get the same exposure to how government really works."
To contact Sofia Reyes for an interview, please e-mail This email address is being protected from spambots. You need JavaScript enabled to view it.. For more information on the Girls Lead Program, contact This email address is being protected from spambots. You need JavaScript enabled to view it..